Sneak Peek: Classic Industries prepares its '56 Convertible Bel Air for SEMA 2012.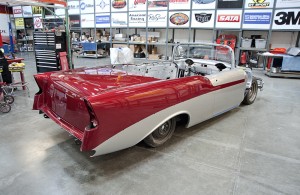 Fall has arrived. Leaves are turning colors, pumpkin-spiced coffee is back in stores, and car manufacturers and tuners alike are preparing their wildest creations for the Specialty Equipment Market Association trade show– enthusiasts know it better as SEMA, traditionally held the first week of November.
SEMA brings some of the most important and influential automotive companies together in one place. Classic Industries is no exception, preparing their '56 Convertible Bel Air "Open Air" for its appearance at the show. We have been covering the progress of Open Air over the last few months and we are excited to share exclusive photos from Classic Industries' progress, showing Open Air finally painted. Check out the gallery below for more photos.
READ MORE