The Sleeper: Walk Softly and Carry a Big Stick
Q-Car. Wolf-in-sheep's-clothes. Sleeper. Whatever you choose to call these cars, there is no denying the allure of an inconspicuous vehicle hiding a potent powerplant. From the Black Widow '57 Chevy to the modern Cadillac CTS-V station wagon, the formula has remained the same: shoehorn the most powerful engine, transmission and axle into a package that can be mistaken for any other errand-running machine.
Concealed Weapons
The Sleeper formula isn't limited to automobiles. The Q-Ships, for example, were converted merchant vessels made to look like easy targets for German submarines, or U-Boats, during the World Wars. Q-Ships lured U-Boats to the surface, destroying them with concealed heavy armaments before the U-boats could strike. Q-Ships accounted for 10% of all U-Boat kills during the World War One.
As automotive enthusiasts applied the Q-Ship formula to cars, the wolf-in-sheep's-clothing became the hare-in-tortoise's-clothing. Hiding a performance engine in an unassuming package became a celebrated drag racing tactic.
Deception for Sale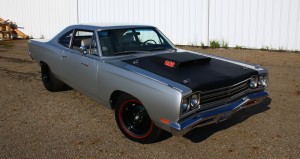 Auto manufacturers reacted to this theme by offering showroom-floor "Q-Cars". Plymouth and Dodge unleashed some of the most menacing factory-tuned sleepers: The 1969-and-a-half A12 Road Runner and Super Bee. They began by ditching the stock stamped steel hood for one of fiberglass, removing hinges and latches in favor of lightweight hood pins. A massive 390hp 440-cubic-inch big block lurked under the fiberglass hood, breathing through three Holley two-barrels and an Edelbrock intake manifold. It ran the quarter mile marker in 13.88 seconds at over 106mph. By 1969 standards, Mopar had built a supercar. Power is great, but misdirection is an extremely important element of the Sleeper formula, and this 400hp reel had lure on the hook. Outboard of the 4.11:1 Dana differential, Mopar added unassuming steel wheels with chrome lug nuts to put the power to the sticky G-70/15 Goodyear tires.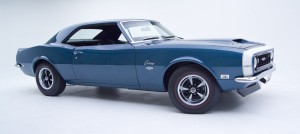 Not to be outdone by their cross-town competitors, Chevrolet also offered a factory-tuned Q-Car in 1969. GM edict forbade the installation of large engines into any vehicle smaller than their full-size passenger car, besides Corvette. In 1969, eager to get into the game and pressed by dealerships such as Yenko Chevrolet, the Central Office Production Order (COPO) system, designed for ordering fleet vehicles, utility trucks, and taxis, was used for offering 427-equipped Camaros and Novas with full factory warranties and emissions certifications.
The ultimate COPO Camaro was the ZL-1. Developed in conjunction with Dick Harrell , the all-aluminum 427 was hand-assembled in a room clean enough to host a heart transplant. The engine-building process took 16 hours, but the result was over 500 tire-melting horsepower. The engine was wedged into the engine bay of a Camaro with unadorned paint and standard steel wheels with wheel caps. This Camaro had the perfect poker face; there were few outward signs of its legendary power.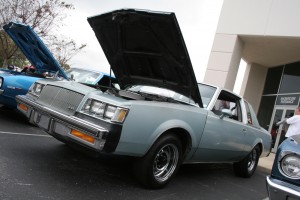 The sleeper formula did not die with the end of the first muscle car era. In fact, the Buick Regal T-type and Grand National, two of the quintessential sleepers, arrived in the performance doldrums of the 1980's. With a turbocharged 3.8 liter V6 making over 250 horsepower and 350 ft-lb of torque wrapped in the skin of a sedate Buick, these cars surprised more than a few people at stoplights and received the nickname "Darth Vader's Car".
A Timeless Formula
Even now, as the enthusiasm for muscle cars remains high, the sleeper formula is being applied and even improved upon. Enthusiasts go to great lengths in order to hide their vehicle's true ability. Two good examples of this are these twin Q-ships: a 1972 Plymouth Duster  and 1972 Chevrolet Nova , both cloaked in humble green. Each has been heavily modified from its stock form, but neither looks the part. Every modification has been done for performance over aesthetics. The result is a simple but decidedly sinister look. Both are designed to post a sub-11-second time on the drag strip. They epitomize the sleeper formula.
Hypothetically Speaking
We'd like to see a 1979 Nova 4-Door sleeper. Ideally, it would be dented and dinged, with paint oxidization to match the corrosive iron oxide peppering the exterior. For this Q-ship, the engine could be none other than the 7.0 liter LS7, delivering preposterous power without any incriminating supercharger whine. A Hurst Driveline 6-speed manual transmission and a Moser 12-bolt would finish the bulletproof power train. Now all we need is the lure. Alloy performance wheels do more to hurt the formula than to promote the unassuming look, so we would top off the look with Nova Rally wheels , without the cap or trim rings. Another good choice would be steel wheels, topped off with hub caps. Spectators would be puzzled, competition would be unprepared, victory would belong to the 1979 Nova.
Whichever model you choose, from Cutlass to Vega, the sleeper formula is a very simple but very effective strategy: walk softly and carry a big, fire-breathing, ground-shaking stick.