The Nitty Gritty: Open Air Test-Fitting Again and Again
Open Air Gets Some Wind in its Sails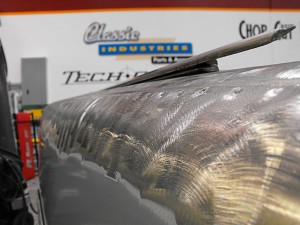 Television programs like Car Warriors, Overhaulin' and, indeed, Chop, Cut, Rebuild make their trade by romanticizing the build of a vehicle. Usually conducted in five steps – acquiring a vehicle, tearing it apart, rebuilding with new parts, dropping a crate engine in, and turning the key – it seems to take no time to build a custom vehicle. We reported earlier on step four of this process, when Classic Industries dropped an LSA V8 into their '56 Bel Air dubbed "Open Air". But the unprecedented access that Classic Industries and Chop, Cut, Rebuild has given us to Open Air's progress shows us that even cars built by the magic of television are not without their share of tedious, mundane work. It isn't wasted effort, though; the work put into Open Air will result in a show car of exceptional craftsmanship.
Trimming the Edges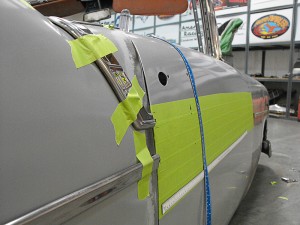 During our visit, the team was working to align the door and fender trim. Craig Chaffers, Classic Industries technical advisor, was aligning each retaining clip to its factory-recommended location. Doing this, Chaffers says, ensures the trim stays flush to the body. "You don't want the molding to pull away from the body, because you'll see this gap between it and the fender, and it will draw your eye," he adds.
It's a lot of measuring and double-checking, but no doubt Chaffers' experience has helped; he owns a '56 Bel Air and is currently in the process of restoring it using parts from the Classic Industries brand-new '55-'57 Chevy Catalog. "I've done this before quite a bit," he says, referring to test-fitting moldings. "You just have to be patient and know where and when to use the mallot or grinder."
 Filling In The Gaps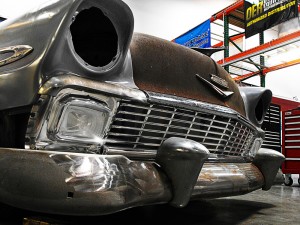 While Chaffers spent time with the passenger side moldings, team member Craig Maiorana showed us around the rest of the car. Under the rusty, placeholder hood, Open Air's LSA V8 was bagged like groceries. "We've got to pull the engine soon, the frame's getting powder coated and the body is getting some final body work."
Maiorana also showed us the custom tonneau filler that team member Edgar Soler fabricated. As Open Air will be permanently lidless, no well for the convertible top was needed, Soler and the team created what Maiorana calls a "jungle gym" to fill the spot. It will be custom-upholstered to look like a tonneau cover.
Speaking of fillers: There's still no sign of anything to fill the interior – the Glide Engineering seat frame is still hibernating in its box in the shop, but the word has yet to be out on upholstery style and color. Chaffers indicated, however, that Dakota Digital's VHX gauges would be displaying Open Air's vitals. We were assured that in the coming weeks there would be a deluge of new updates.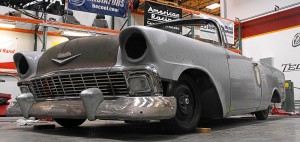 What we took from this visit, is the hard work that goes into the little things for builds like this. Even when a car is built in eight episodes on television, it takes countless more hours to get custom work and restoration to flow together into a svelte, sexy show car.
As always, thanks to Classic Industries and Chop, Cut, Rebuild for the all-access pass to Open Air. Look for the entire build on Chop, Cut, Rebuild, this fall, on SpeedTV.