Posts tagged "sleeper"
Sleeper Alert: "Black Widow" '57 Chevy 150
How a Parts-Bin Special Became The Most-Feared Competition Car in America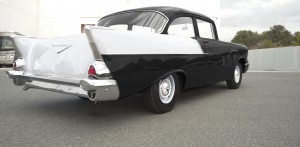 "Black Widow." The name itself struck fear into the hearts of many during the heyday of stock car and drag racing. Born for the 1957 competition year, these unassuming Chevy 150s became the ire of many opponents straight from its inception. The 150s were officially built by SEDCO (the Southern Engineering and Development Company), a subsidiary of Nally Chevrolet of Atlanta. But the company was just a shell for Chevrolet's factory racing program. If there ever was an example of a factory-bred hare-in-tortoise's clothing, the Black Widow is it.
Read the rest of this page »
The Sleeper: Walk Softly and Carry a Big Stick
Q-Car. Wolf-in-sheep's-clothes. Sleeper. Whatever you choose to call these cars, there is no denying the allure of an inconspicuous vehicle hiding a potent powerplant. From the Black Widow '57 Chevy to the modern Cadillac CTS-V station wagon, the formula has remained the same: shoehorn the most powerful engine, transmission and axle into a package that can be mistaken for any other errand-running machine.
Read the rest of this page »