Sneak Peek: Classic Industries prepares its '56 Convertible Bel Air for SEMA 2012.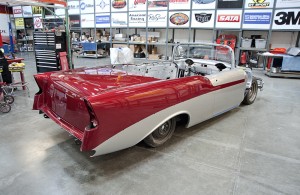 Fall has arrived. Leaves are turning colors, pumpkin-spiced coffee is back in stores, and car manufacturers and tuners alike are preparing their wildest creations for the Specialty Equipment Market Association trade show– enthusiasts know it better as SEMA, traditionally held the first week of November.
SEMA brings some of the most important and influential automotive companies together in one place. Classic Industries is no exception, preparing their '56 Convertible Bel Air "Open Air" for its appearance at the show. We have been covering the progress of Open Air over the last few months and we are excited to share exclusive photos from Classic Industries' progress, showing Open Air finally painted. Check out the gallery below for more photos.
Read the rest of this page »
The Nitty Gritty: Open Air Test-Fitting Again and Again
Open Air Gets Some Wind in its Sails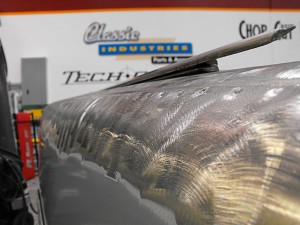 Television programs like Car Warriors, Overhaulin' and, indeed, Chop, Cut, Rebuild make their trade by romanticizing the build of a vehicle. Usually conducted in five steps – acquiring a vehicle, tearing it apart, rebuilding with new parts, dropping a crate engine in, and turning the key – it seems to take no time to build a custom vehicle. We reported earlier on step four of this process, when Classic Industries dropped an LSA V8 into their '56 Bel Air dubbed "Open Air". But the unprecedented access that Classic Industries and Chop, Cut, Rebuild has given us to Open Air's progress shows us that even cars built by the magic of television are not without their share of tedious, mundane work. It isn't wasted effort, though; the work put into Open Air will result in a show car of exceptional craftsmanship.
Read the rest of this page »
The Sleeper: Walk Softly and Carry a Big Stick
Q-Car. Wolf-in-sheep's-clothes. Sleeper. Whatever you choose to call these cars, there is no denying the allure of an inconspicuous vehicle hiding a potent powerplant. From the Black Widow '57 Chevy to the modern Cadillac CTS-V station wagon, the formula has remained the same: shoehorn the most powerful engine, transmission and axle into a package that can be mistaken for any other errand-running machine.
Read the rest of this page »
Classic Industries' Open Air Gains Locomotion, Loud Noises
"What? I'm sorry, I can't hear you over your supercharger whine!"
Open Air 2.0: Updated and Upgraded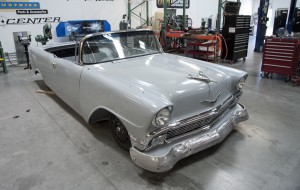 A few weeks ago, we brought you news that Classic Industries was building the very first brand-new '56 Bel Air convertible since that same year. We are back with some updates on their build, dubbed "Open Air." It seems Classic's been burning the candle at both ends with this build. The last time we had seen it, the Real Deal Steel body and Art Morrison frame had just met. It now sits primed and ready for the custom bodywork required of such a build. We are eager to see the full build on Chop, Cut, Rebuild when it premieres on SpeedTV. Open Air has come a long way.
Read the rest of this page »
Classic Industries Builds a Brand New '56 Bel Air Convertible
Building Open Air, the First Brand New 1956 Bel Air Convertible in almost 60 years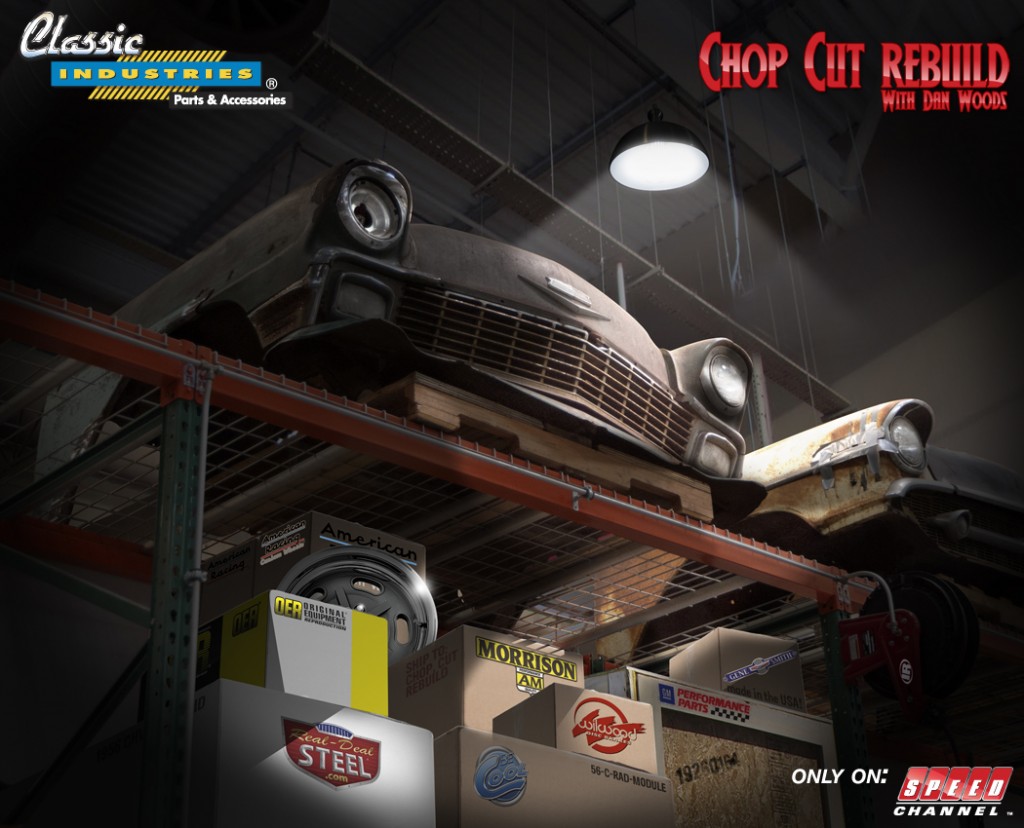 It was only last year when Classic Industries unveiled its most recent project at SEMA in cooperation with Chop Cut Rebuild, the 1972 Plymouth "Twisted" Duster. And it was only three months ago that they debuted their brand new catalog for 1955-57 Chevrolet passenger cars. Picking up quickly where it left off, Classic Industries has begun work on its sixth project vehicle, a 1956 Chevrolet Bel Air convertible dubbed "Open Air," using parts from its brand new 1955-57 Chevy catalog. The build will be partnered with Chop, Cut, Rebuild and will debut for the show's 9th season in Fall 2012 on Speed TV.
For the build, Classic Industries chose to stay true to the Tri-Five's roots; debuting in 1955, the new Chevrolet Bel Air featured technology, comfort, and power wrapped within a stylish package. Tapping top suppliers like Art Morrison for the frame, Real Deal Steel for a brand new 1956 convertible body, and GM Performance Parts for the healthy LSA supercharged V8 (as featured in the Cadillac CTS-V), Classic Industries will continue this theme whilst also re-writing the book on Tri-Five performance.
Read the rest of this page »