Twisted Duster Provides Whirlwind of Excitement at SEMA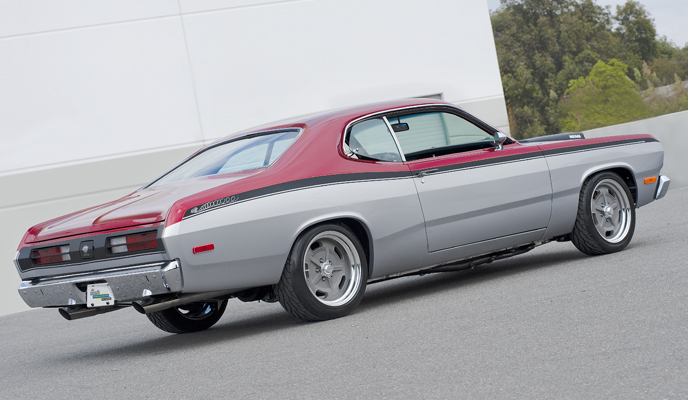 Classic Industries teamed up with SpeedTV's "Chop, Cut, Rebuild" for the television show's 8th season in 2011 and unveiled a one-of-a-kind 1972 Plymouth Duster that showcased Classic Industries' depth of parts offering for the catalog it debuted earlier in the year. The Duster, built alongside a 1941 Willy's, made its first major public debut at SEMA, a gathering and trade show for the manufacturers and retailers in the automotive aftermarket.
Featuring a 426ci "New" Hemi, the Duster gets the awesome power to the ground through its push-button TCI 6-Speed automatic transmission and Moser 8.75″ rear end. Classic Industries teamed up with many familiar faces including Dakota Digital, BF Goodrich, Legendary Auto Interiors, and newcomers such as Joe Gibbs Driven Racing Oil, ISIS Power, and Bouchillon Performance Engineering.
"This Duster project has allowed us to showcase how enthusiasts can use our new catalog of Mopar restoration products to restore or customize a classic Mopar like our Duster." Said Jeff Leonard, CEO of Classic Industries.
StreetLegalTV's Kevin Shaw reports that the ISIS Power Multiplex wiring system acts as a brain for the Duster, controlling and monitoring every function "to some degree or another" with much fewer wires.  This is unique and very interesting to car modifiers because it allows much of the wiring to become hidden or simply removed for a much cleaner, sleeker and modern look to the wiring system. You can read more about Shaw's opinions of the Duster here.
The Twisted Duster represents a milestone in Mopar restoration and modification – with Classic Industries' dip into the Mopar market, they have brought their legendary customer service, low prices, stocked warehouse, and comprehensive offering of performance and restoration parts to a group of consumers that, until now, were forced to shop at many different retailers for parts and accessories for their Mopars.
Further Reading:
[portfolio_slideshow  size=large]
Special thanks to:
SpeedTV's "Chop, Cut, Rebuild"